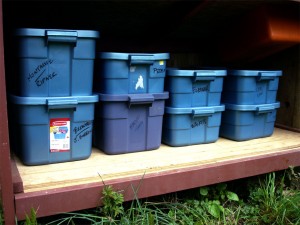 This year we are once again offering a limited number of shares or subscriptions that entitle the holders to 22 weeks (not 20 as was previously indicated) of produce through our Hope Bay Farm Box or Community Supported Agriculture program.
** We are now fully subscribed.**
We will take names of folks interested in participating in the 2012 season.
Information about our box program is provided via the **updated** Hope Bay Farm CSA FAQ v.2 sheet. Please contact us at info(at)hopebayfarm.com if you are interested in signing up.
What is Community Supported Agriculture (CSA)?
Community Supported Agriculture (CSA) connects local farmers with local consumers.  These consumers help cover the farmer's operating expenses in exchange for shares of produce grown or raised.  Shares are usually purchased via varying types of memberships or subscriptions.
As with any business, being a member of a CSA farm involves a certain amount of risk.  Bad weather and other extenuating circumstances may limit production for a particular season. The shared risk is what helps to develop the sense of community between members and their farmer or farmers.  Members are able to speak directly with their farmer, receive the freshest produce, and learn how it's made.  Member relationships are also cultivated through the sharing of knowledge and experience.
With CSA, farmers and growers have an assured market.  This guarantee allows more time to focus on production rather than marketing and provides a fair return on their labor.  Ultimately, participation in CSA farming helps to build stable local farming operations as well as local economies.